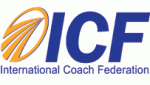 Vår coach är utbildad, certifierad och arbetar enligt ICFs internationella riktlinjer för professionell coaching.
Medlem i ICF International Coach Federation Org
Medlem i ICF Sverige
The ICF defines coaching as partnering with clients in a thought-provoking and creative process that inspires them to maximize their personal and professional potential.
Professional coaching is an interactive process that helps individuals and organizations improve their performances and achieve extraordinary results. Professional coaches work with clients in all areas, including business, career, finances, health and relationships. As a result of professional coaching, clients set better goals, take more action, make better decisions, and more fully use their natural strengths.